The British Council Nepal is implementing a series of interactions, Youth Climate Café, with Nepalese youth as a part of COP26 Youth Summit, to be held in Glasgow, the UK coming November 2021. Each subsequent session (up to December 2021) is intended to contribute to longer-term objectives, generating real value by assessing collective will, action, and impact on global climate change. The series aims to connect youth in climate action as well as media in order to capture and present the content of Nepali voices carried to pre-COP26 youth platforms such as the Youth Summit and Conference of the Youth. Post-COP26 sessions will aim to ensure that COP26 representatives have an opportunity to report back on highlights and work together to advance commitments and ambitions.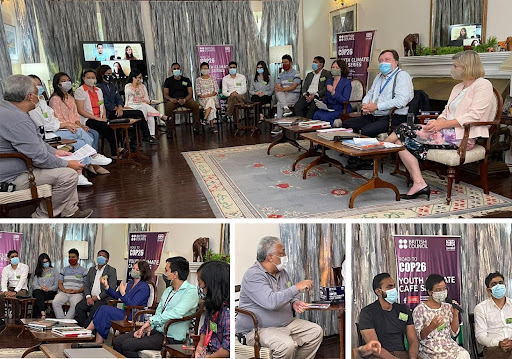 On Friday, September 24, 2021, young leaders from various backgrounds came together to network, assess achievements, prepare for COP26, and collaborate beyond the global summit to address the climate change crisis. With the support of the British Council and UK Aid, hosted by the British Embassy and supported by Nepalese Youth for Climate Action (NYCA), the event aimed to learn about, understand, and share the insights and lessons from strategies, programs, projects, and activities on climate action done by youths being implemented across Nepal.
The facilitation of interaction between each speaker and UK in Nepal representatives Nicola Pollitt, British Ambassador to Nepal, Shahida MacDougall, British Council Country Director, and Ken O'Flaherty, Regional Ambassador for Asia-Pacific and South Asia at FCO-Cabinet Office joint unit for COP26 Climate Summit. The interaction was led by the imminent social entrepreneur Anil Chitrakar. The interaction was attended by 10 young leaders and 2 youth submit delegates. Aside from that, 50 more youth from across the country joined the virtual platform and participated in the live interaction by sharing their thoughts/feedback or questions in the session chat.
Opening - The event was live stream on the Facebook account of British Council Nepal, UK in Nepal, and NYCA. Shahida Mcdougall, the country director of the British Council gave her welcome remarks to the participants and speakers. She addressed the importance of youth and their civic participation in climate change actions.
The British ambassador of Nepal, Her Excellency Nicola Pollitt welcomed the participants and expressed her delight in being able to support and amplify the voice of youth and their works. She indicated the importance of generating conversations and individualistic actions for fighting climate change.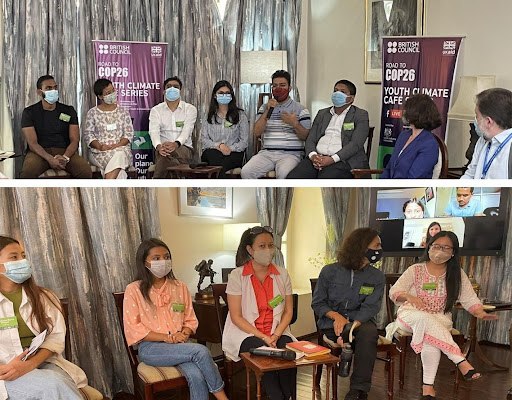 SPEAKERS NOTE
Binod Prasad Parajuli: When it comes to the execution of any positive actions or positive stories it is important for that to be seen among people. Binod Parajuli has been part of the Climate Tracker; a platform where the diverse, interdisciplinary team, scientists come together to bring the story from the research works to the mainstream media.
Bisrantee Wagle: Collaborations with local governments are crucial in bringing sustainability to Nepal. Bisrantee Wagle, Co-Founder of Avni Center for Sustainability shared the work she and her team has done, in collaboration with 30 local governments including youth and local people to get along in creating sustainable project ideas in order to secure the funds allocated for environment-related activities.
Additionally, she also shared her engagement in the documentation of indigenous knowledge practices aligned with sustainability.
Bandana Rana Magar: Working as an Assistant Program Officer for National Indigenous Disabled Women Association Nepal (NIDWAN), Bandana Rana Magar mentioned her research work on the impact of climate change on indigenous peoples, indigenous women with Disabilities, and their effort trying to sensitize the government in marginalized perspective. She also specified the impact of climate change on indigenous and disabled persons and her expectations of indigenous participation in climate change discourse.
Bindu Bhandari: With the experience of more than seven years working in the climate sector, Bindu Bhandari explained the necessity of clear definitions to climatic terms like "Net Zero" and "Climate Finance". She shared her expectations with this year's COP26 to have a more transparent vision of these terms in accordance with the country.
Dipesh Kumar Sharma: Government and policy and its collaboration with youth and their visions can play a significant role in climate justice and other related factors. Dipesh Kumar Sharma; being young and working with the government, indicated that there are huge opportunities for young people to participate in climate-related initiatives and voice for climate adaptation and mitigation.
Sonika Manandar: Co-founder of Aaloei Technologies, Sonika Manandar stated that; the advancement of technology helps to tackle global issues like climate change. Her work in the electric vehicles sector with women micro-entrepreneurs is remarkable in limiting carbon emissions. But on the flip side, she also indicated the financial problems which are dragging the business near to the breakpoint.
Sadip Raj Pandey: Research assistant at Biodiversity Conservancy Nepal, Sadip Raj Pandey shared his work on Human-Animal conflict at Bardiya National Park. The conflict is interrelated with biodiversity loss and climate change. They involved the locals to resolve the conflict by creating citizen scientists among the local people so that they will be able to recognize the factor leading to the conflict and try to find a solution themselves. He also mentioned the importance of children's interest and involvement in such global crises as climate change.
Ashim Kayastha: Clean energy resource is known as the future of a sustainable planet. CEO of Gandaki Urja P. Ashim Kayastha explained how their company produces energy and organic fertilizers with animal waste.
Shailaja Kasaju: Tekka, a community of young entrepreneurs investing in women's economic empowerment has been working and promoting environmentally friendly products.
Shailaja Kasaju, founder of Tekka shared her work in using agricultural waste from fast-growing trees like bananas and producing biodegradable sanitary pads out of it.
Binod Deuba: The cofounder of 'Harin Nepal'; a loose forum and group of environmentally conscious youths, Binod Deuba pointed out the lack of political will in our system of policy and how the changes made at the political level does not reach the ground level. So, they initiated campaigns like the "Save Nijgadh" campaign. He also specified that the climate issue is not only limited to climate and environment, but it has adverse effects on other factors like social and political issues.
Samana Lawati: Co-founder of Political Literacy for Women, Samana Lawati highlighted the factors that make women most vulnerable to climate change and disasters. She explained the importance of young women and other vulnerable groups to come forward and make their voices heard.
Pabita Shahi: Currently working as gender and environmental coordinator at Powershift Nepal, a women-led organization working to combat climate change and other environmental and local issues, Pabita Shahi stated the challenges faced by people in Humla, without actually knowing where the challenges are coming from. Correspondingly, she also addressed the seasonal problems like drought and change in agricultural pattern as the result of climate change.
Anish Shrestha: An indigenous youth advocate, Anish Shrestha is currently working as the Executive Director (ED) of the YFEED Foundation. He questioned about the assurance of the children's future and at the same time about the mountains in Nepal which are at risk due to climate change.
Monika Neupane: Leading a project; United Nations' Sustainable Development Goals, SDGs in action. Monika Neupane is educating school children about SDGs and their significance through project-based learnings. She also shared the incident about one of the students from Doti, who was not able to join the online classes due to an electrical problem in their area which was the result of the off-season heavy monsoon; the adversity of climate change.
Ken O'Flaherty -- COP26 regional ambassador to the Asia Pacific and South Asia, Ken O'Flaherty stated that climate change and the fight against climate change is the top priority for the UK Government for this year and for the years to come. He mentioned that climate change is not a debate. It is changing lives and impacting in many ways, thus requires actions from many sectors from Local, National, to Global. Additionally, he also agreed with the fact that the knowledge of indigenous people, their skills, and practices should be well recognized.
Moderated session in the presence of the UK Climate Ambassador for Asia Pacific region,
HE Ken O'Flaherty

Anil Chitrakar: Youth who are engaged in climate action and those attending COP26 Youth Summit have a clear understanding and have internalized the purpose of the global meet and what we can expect.
This is the twenty-sixth-time governments from around the world, businesses, cities, schools, universities, and the youth have come together to respond to, cope with climate change impacts, and mitigate the cause of climate change. Nepali youth need to understand these concepts, and their own expectations based on why COP26 is being organized.
The interaction was concluded by Nischal Oli, Head of Arts, British Council Nepal.

Watch us more here: